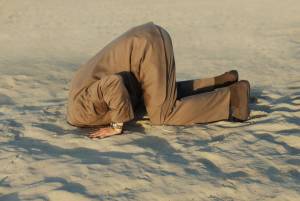 Overcoming denial is a prerequisite to acceptance. You can't accept "what is" when you are in denial, because you are unaware of or can't "see"the underlying reality of the situation or person.
Simply put, you can't accept when you deny.
In my previous post,Letting Go of Denial, I discussed the denial dynamic and its adverse impact on us. My new book, The Gifts of Acceptance: Embracing People and Things as They Are, explains how we can begin to move from denial to acceptance.
An essential key to the process is being willing to reexamine deeply ingrained beliefs, so that we can gain a greater awareness of when, how, and what we are denying.  In the book's chapter on denial, I list pertinent self-inquiries aimed at gaining the awareness necessary to let go of denial.
Here are three of them:
"Is an important area of my life becoming unmanageable? If so, why?"
"Am I avoiding dealing with something, and if so, what?"
"Am I engaging in wishful thinking about something, and if so, what?"
I encourage you to apply these inquiries so that you can get to the heart of any denial issues you may be experiencing.  Please let me know what you learn.
On another subject, I am very excited and gratified that The Gifts of Acceptance has been receiving such great critical praise.  Below is a recent editorial review.
Through May 15, you can preorder the ebook at the introductory price of only $2.99 at Amazon.   The print book will be released on May 28.
In the meantime,
Let it Go–and Accept What Is! 
 Let's Help Make Acceptance Go Viral!
Danny
*If you enjoyed this post, please "like" it on your Facebook page and share it with others.
**"The common challenges to acceptance, from one's parents to setbacks and failure, are each profiled in chapters that use case histories and author experiences to illustrate the predicament and the contrast between controlling and accepting behavior patterns. The result is an informational title packed with strategies, tools, and tips for negotiating ups and downs with a new paradigm for living a better life."  –D. Donovan, Senior Reviewer, Midwest Book Review